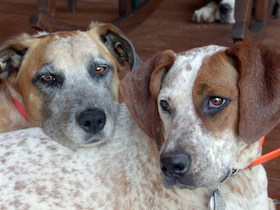 Monroe County Animal Shelter
To report cases of stray animals, animal endangerment or abuse/neglect, call 911 Dispatch non-emergency at 423-442-4357.
Monroe County Friends of Animals
Animal Shelter's facebook page
Conveniently located at 170 Kefauver Lane in Madisonville (behind Walmart), the Shelter is open Tuesday-Friday from 11-4:30 and Saturdays from 11-2. The shelter is closed to the public on Sunday and Monday. Call 423-442-1015 or check out all available pets on our website at friendsofanimalsmc.org
Adopt a Pet, Volunteer, Donate...
All animals adopted are spayed or neutered, have age appropriate vaccinations and testing, and are microchipped (with registration). Even if you are not ready to adopt, you can help the Animal Shelter. On an average week, they have about 50 intakes, 5-10 adoptions, and transfer 50 pets to rescue partners. Volunteers can help by working at the Shelter and/or fostering dogs to prepared them for adoption. Also, the Shelter is constantly in need of donations, including paper towels, laundry detergent, lots of scoopable/clumping cat litter, copy paper, bleach, Q-tips, cotton balls, and original blue Dawn, and cleaning and office supplies - just drop your donations off at the Shelter.
Fosters...
As always, we could use more dog and cat fosters. Consider becoming a foster for puppies, kittens and adult dogs and cats. If you feel that you cannot adopt at this time, think about a short or long term foster situation. Call the shelter at 423-442-1015 to find out more information and get an application.
All animals adopted are spayed or neutered, have age appropriate vaccinations and testing, and are microchipped with registration. Cats are litter box trained. $40 adoption fee over 2 years old, $50 under 2 years old
Below is an example of three enchanting cats looking for homes...
Blue is a very handsome 3-year old 12 pound Russian Blue Mix with beautiful green eyes. His chubby cheeks make him like the big loveable cuddly bear that he is. He's FIV positive and needs to be an indoor ONLY cat. He is VERY friendly and will reach out of his condo to tell you he wants some attention. So far we've seen no reaction to other cats or dogs at the shelter. FIV-positive cats tend to live normal lives in a stress-free environment and FIV cannot be transmitted to humans or dogs. FIV negative and positive indoor cats can live together as long as the cats do not fight. The risk can be minimized by the "slow-introduction method" (see our website under Pets, helpful hints, Multi-Cat Household). Fortunately, Blue appears to be a lover, not a fighter.
Una is a 1-year old sleek and quiet DSH female. She's very playful, friendly and social. She's a petite golden-eyed beauty with a jet black coat. Black cats are often very smart. They are savvy to things going on around them and capable of handling change while remaining calm and loving companions.
Michelle is a 1-year old Calico with some Tabby markings and a feisty personality. She's very sweet when she wants to be but will let you know when she's done and this may be a reaction to the shelter/cage environment. In many cultures, Calicos are believed to attract good luck and are often called "Money Cats."