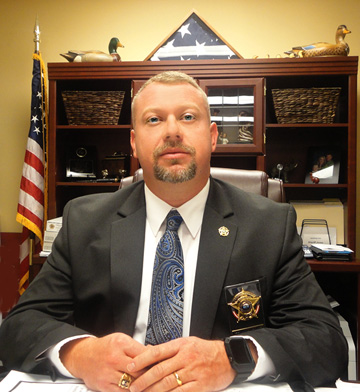 Welcome to Monroe County, Tennessee, Sheriff's Office
"It is my pleasure to serve the residents, businesses and visitors to this county as Sheriff.
School safety is a top priority. The most important thing the Sheriff's Office can do to protect students and staff involves training, so that each school immediately takes action to execute their active shooter plan. To educate the youth of our county and help prevent crime, our School Resource Officer program plays a vital role. We also use a program called Eddie Eagle to help us teach gun safety to our school children. The positive effects of these programs will help our county's citizens in the years to come.
Our goals are many, but a prime focus is the drug problem. Narcotics are the number one crime in our county, going hand-in-hand with thefts and burglaries related to drug problems. We have grown our narcotics division and instituted a number of programs which are having positive results. Drugs are a nationwide problem, and we have established an excellent working relationship with other local law enforcement departments as well as state and federal agencies.
We are also focusing on lowering the return rate on the corrections side. We've introduced several new programs to reduce the number of repeat offenders.
We appreciate your support of the Monroe County Sheriff's Office and are grateful for the opportunity to serve. Please contact our office if we can be of help."
Tommy Jones, Sheriff
Latest from our News Blog
Steve Ogle - Captain Criminal Investigation Division Steve Ogle started his law enforcement career in 1984 at the Madisonville Police Department. In March of 1989, he accepted a position... Read More
Ray Haynes has recently been promoted to Patrol Captain of Monroe County Sheriff's Office. Captain Haynes began his law enforcement career in Corrections in 2004, upon graduating from Sequoyah... Read More